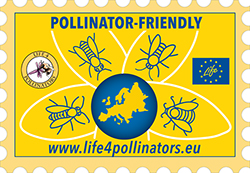 WOULD YOU LIKE TO BECOME POLLINATOR-FRIENDLY?
IF YOU ARE A MUNICIPALITY, LIFE4Pollinators developed a declaration, subscribe it and adopt it to halt the decline of pollinators. Cities can be ecological corridors and so save pollinators.

Pollinator friendly municipalities currently are: 

CASALECCHIO DI RENO

MONTERENZIO

SAN LAZZARO DI SAVENA

 
IF YOU ARE A FARMER, LIFE4Pollinators developed a code of conduct, subscribe and you can have the Pollinator Friendly label.
updated, March 2023